At the T&T Sale, I picked up
ONE
Cozy Coupe for the triplets...apparently that was a
BIG
mistake...the three of them fought over it all afternoon yesterday! At first they had fun pushing...okay really RUNNING...each other around and into the garage, but then Jack decided he didn't want to wait for his turn - so tried to get in...or get Gabbi out, not sure which one!!
Before I saved them, I quickly snapped a few pictures with my phone (hence the not so great pixels, but you get the idea!). Guess the moral of the story is, we can use a second (and maybe a third) one of these cars!!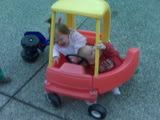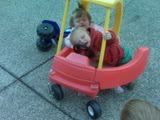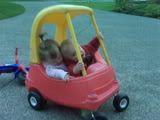 Comments:


Amy:
Oh to be a triplet. Always having to share your toys. Wish i had one to give you.
Originally Posted on Myspace Blog